Whether it's a quick caffeine hit that you're seeking or a slow, lingering sit down with a friend or a good book for company, Boston is packed full of great coffee shops to suit every taste and whim. The city's myriad of coffee purveyors are renowned for serving up top-notch beans in a warm and welcoming atmosphere – not to mention that modern day coffee shop essential: free WiFi.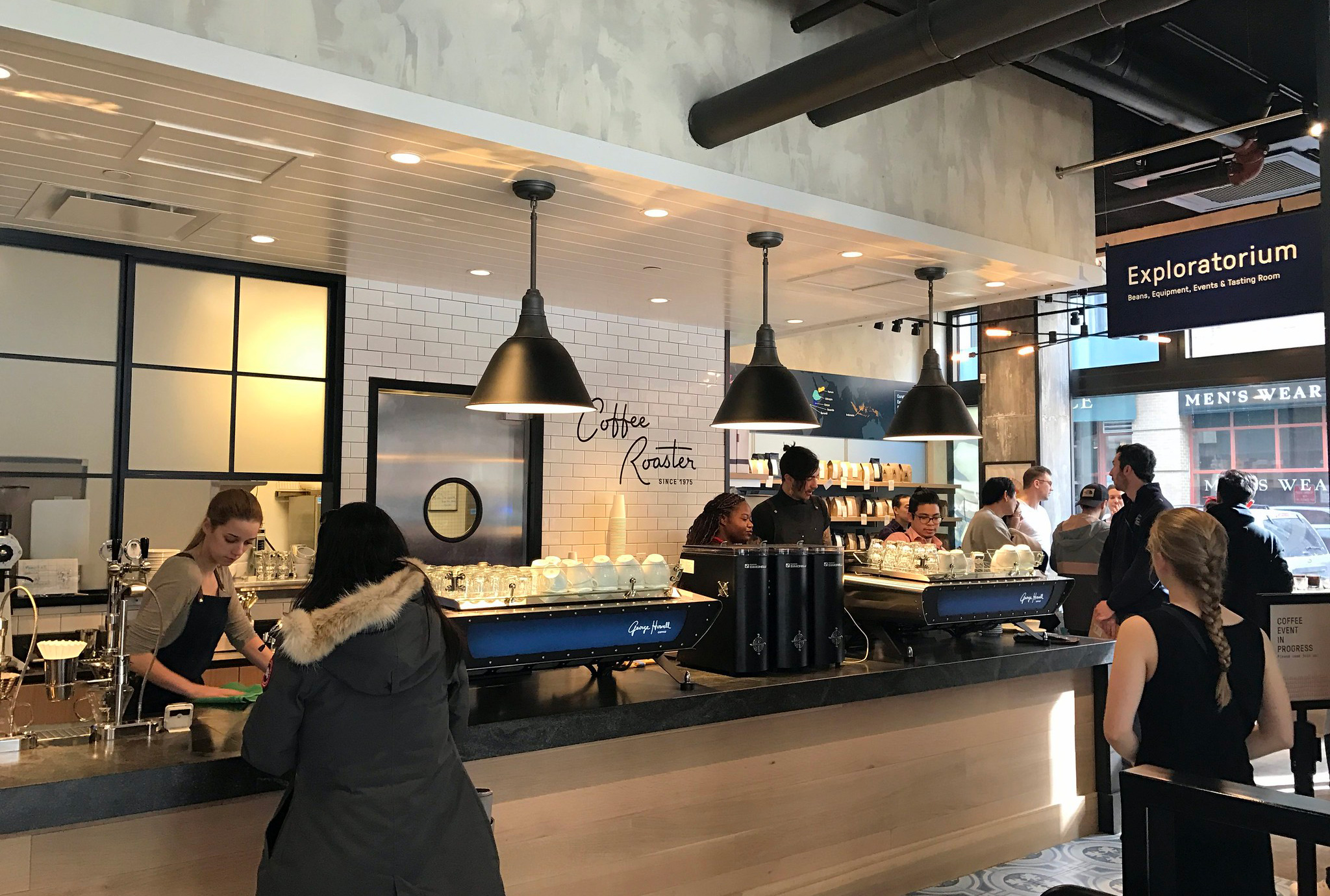 Boston's coffee shops are dotted around almost every nook and cranny of the city, ensuring that wherever you are you'll never be far from a much-needed caffeine jolt. If you're a dedicated coffee lover and are planning to visit Boston any time soon, we've done some research for you and picked out 12 of the best coffee shops that the city has to offer.
The Well Coffee House
Named after the wells written about in the Bible that served as social gathering places, it's fair to say that the people behind The Well Coffee House in Boston subscribe to the view that coffee-drinking can be akin to a religious experience. Indeed, the brand's Christian mission statement extends to its status as a non-profit organisation with a strong focus on helping local and global communities. First opened in the city's historic South Station in 2014, The Well have since launched a second outlet in State Street, with both venues serving up award-winning Crimson Cup Coffee, featuring a variety of Grade 1 beans and representing the most elite coffee beans harvested worldwide. Be sure to check out their fun drink for travellers called The Freedom Trail Freeze.
South Street & State Street
The Coffee Trike
There's no more unique coffee experience to be found in Boston than The Coffee Trike, which pitches up in two Boston locations on rotating days throughout the week. From a self-contained, mobile tricycle, patrons descend in their droves to pick up espressos, cold brewed coffees and other beverages, with all of their coffee beans sustainably sourced and roasted locally. Indeed, such has been the Trike's success that it was once listed as one of the 50 Coolest Small Businesses in America by the influential Business Insider magazine.
Dewey Square & SoWa Open Market
Cuppa Coffee
Among Boston's melting pot of cultures is a small community of Australians who have brought a flavour of Down Under to the city. And with Australia boasting a world class coffee scene of its own, it's perhaps no surprise that some of Boston's Aussie expats decided to open their own coffee shop. With two outlets, both located in two of Boston's most vibrant areas, the high-end espresso bars specialise in Australian coffee, Aussie-inspired meat pies, baked goods, and more. Whether it's grabbing a coffee and a pie on the go or kicking back for a leisurely afternoon nursing some of the best caffeine-based beverages the city has to offer, Cuppa Coffee will welcome you with open arms.
South End & West End
George Howell Coffee
A veteran of Boston's coffee scene, the eponymous founder of this popular coffee house has gained a loyal fan base since founding his downtown shop in 2004. Housed inside the upscale Godfrey Hotel, the shop features a large marble bar, two state-of-the-art espresso machines and a dedicated retail corner where you can pick up high quality beans, brewing equipment, and other coffee-related gear. The shop also hosts regular coffee education classes.
505 Washington Street
Gracenote
For a boutique coffee shop experience in Boston, this tiny gourmet espresso bar in the city's Leather District serves up a curated selection of coffees in an intimate setting. Run by Massachusetts-based roasting company Gracenote Coffee, the all-standing bar offers a rotating choice of two different espressos each day, along with a daily changing pastry menu. Woodwork and pottery workshops also take place here.
108 Lincoln Street
Jaho
With three locations across Boston, Jaco are one of the biggest names on the city's coffee scene. Whether it's an expertly made espresso, or one of their daily coffees prepared in a French press, siphon, chemex or pour-over, there's something to satisfy every caffeine fiend's tastes. Jaco also have an extensive food menu, including all-day breakfast sandwiches and bagels, made fresh-to-order salads, and a variety of pastries and desserts.
South End, Downtown/Chinatown & Boston Back Bay
Pavement
After starting off selling hand-made bagels in Boston, Pavement soon built on their success by branching out into what would quickly become award-winning coffee. Today they continue source, brew and serve some of the best coffee you'll find anywhere in the city, with several outlets dotted across Boston. And fear not, they still serve their delectable bagels, too.
Venues across Boston
Render
A locally owned and operated coffee shop, Render has two Boston outlets, each focused on providing a quality experience for customers with its combination of a cosy atmosphere, fresh food, and premium coffee. Patrons can expect a range of pour-over coffee drinks and espressos, along with a mix of local pastries and other foodie offerings. The downtown venue also will has an adjoining event and meeting space, which regularly stages networking events, food and coffee classes, and more.
South End & Downtown
Thinking Cup
Self-proclaimed to be the first coffee shop in Downtown Boston to serve "Stumptown Coffee" and "Third Wave Coffee" products exclusively, Thinking Cup has gained a cult-like following since opening its doors a decade ago. Using top quality coffee beans from regions around the world, they pride themselves on serving up high-end specialty coffee in a laidback setting, with the shop's knowledgeable baristas always ready to answer your questions on the exquisite art of coffee-making.
Newbury Street
Broadway's Pastry & Coffee Shop
A casual cafe serving coffee and espresso drinks plus tea, pastries and light bites, Broadway's Pastry & Coffee Shop has become a haven for coffee lovers in the local vicinity of South Boston and beyond since opening back in 2015. The venue is also said to be the first coffee shop in South Boston to exclusively serve Guglielmo Coffee – an acclaimed Italian coffee company that puts an incredible amount of care and attention in its sourcing of imported coffee beans
258 West Broadway
By Paul Joseph