It's an understatement to say Rhode Island gets pretty chilly in the winter. The summer climate can be equally uncomfortable, as bright, sunny days give way to super-humid heat.
But what's more appetizing than a some ice cream on a hot day? We've chosen six ice cream spots for you to check out. They're scattered across the state, so whether you're beaching it in Charlestown or strolling around Providence, we've got you covered.
Lincoln Creamery
Maybe you're celebrating a birthday. Or perhaps it's cheat day in your vigorous fitness routine. Maybe you're trying to consume the entirety of a day's calories in a single sitting. Whatever your situation, the hefty, layered (and limited-quantity available) shakes at Lincoln Creamery will fit the bill. Each begins with a few scoops of ice cream and is followed by a gargantuan set of toppings. One example: the "Cawfee and Donuts" frappe, a shake topped with whipped cream and sprinkles, followed by an entire donut, and topped with a final fluff of cream and sprinkles. Looking for something less indulgent? You can expect the usual hard ice cream, soft serve and frozen yogurt as well.
276 Front St #1, Lincoln, RI
Like No Udder
The ice cream at Like No Udder is quite literally unlike any "udder"—you'll only find dairy-free, vegan treats here. The business began as a vegan soft-serve truck, and even scored a spot in PETA's list of "Top 5 Vegan Friendly Food Trucks." It continues serving cruelty-free cold treats throughout the summer, but you don't have to wait for the solstice to grab a cone of key lime pie or coconut lace. At the Providence location, you'll find hard ice cream in a dozen flavors (eight constant and four rotating), made from ingredients like cashews, coconut milk, peanut butter, sugar and vanilla.
170 Ives St, Providence
Gray's Ice Cream
Tiverton's Four Corners is a quaint (and popular) collection of shops and snacks in a particularly bucolic slice of Rhode Island. Gray's Ice Cream is arguably one Four Corners' biggest draws, with its parking lot regularly packed with locals and visitors alike. Open year-round, Gray's carries a typical assortment of ice cream made onsite, as well as frozen yogurts and sherbets. Open since 1923, it's a Rhody landmark worth a visit if you're in the area—or if even if you're in Newport, which is about a 35-minute drive away.
16 East Road, Tiverton
Holy Cow
Located in the western part of Rhode Island (and not far from Connecticut), this charming creamery is only open three days a week in fall. But what it lacks in business hours, it makes up for with the breadth of its menu. Serving over 100 flavors of small-batch ice cream, Holy Cow promises "a heavenly experience." Its flavors boast even more creative adjectives and descriptions. Not sure whether you'd prefer a scoop of "Razzle Dazzle" or "Witch's Brew?" Feel free to ask for a sample—or maybe do your own investigation, and work your way through the menu.
5000 S County Trail, Charlestown
The Tricycle Ice Cream Shop
As the name implies, Tricycle began as a mobile operation in 2014, slinging gourmet ice cream sandwiches from a bike-mounted cart across Lil' Rhody. These high-quality treats have increased their following since then—as well as their shelf-space, as they now appear in the freezers of several local businesses (like Newport's Mission and Winner, Winner). The surest route to a berry-and-cheesecake-chunk sandwich or guava-watermelon sorbet push pop? Try visiting Tricycle at their brick-and-mortar location on Providence's west end.
70 Battey Street, Providence, and select farmers markets in summer
Aldo's Bakery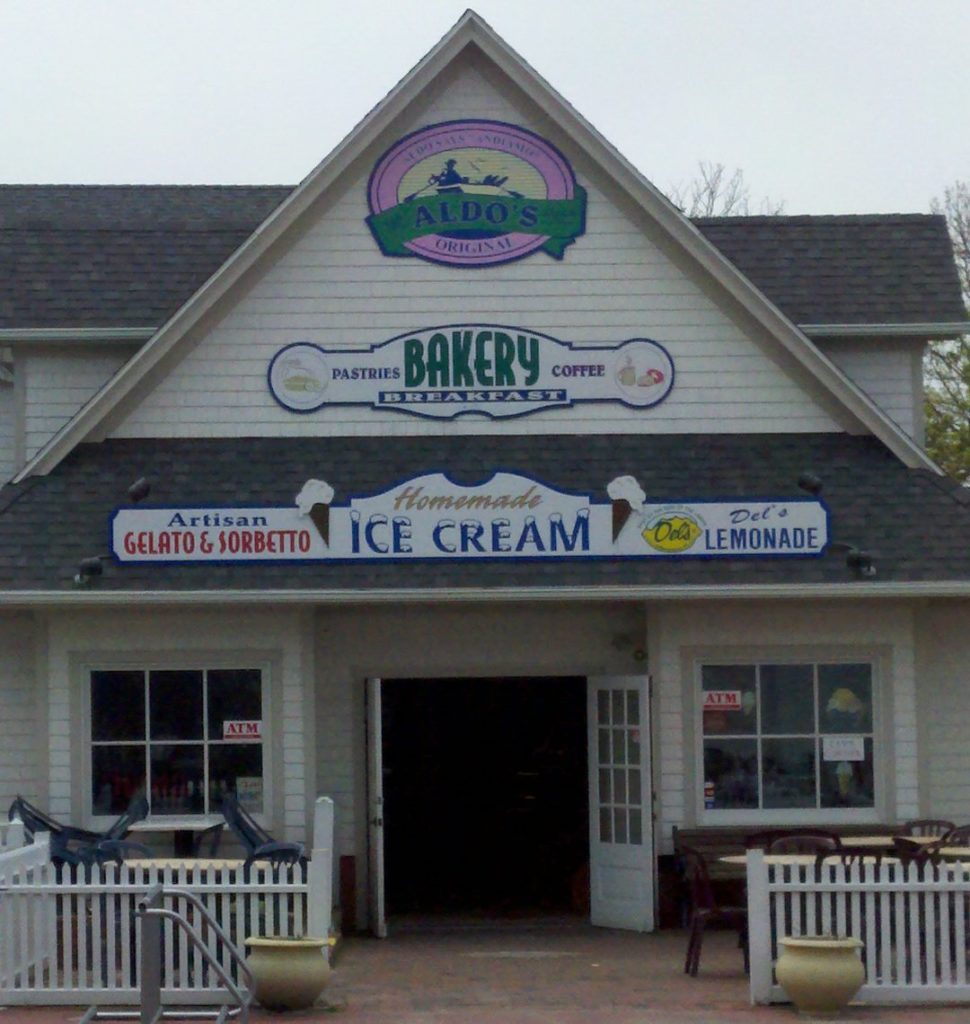 Block Island is its own thing, special even to most Rhode Islanders. Sitting just off the southern coast of the mainland, it's an attractive nautical destination for tourists from both near and far. Looking for something sweet and cold to enjoy after a day on its beaches? Aldo's Bakery in Old Harbor serves breakfast, beverages and baked goods—and of course ice cream. Its 32 homemade flavors include the colorful bubble gum, Boston cream pie or luxuriant pralines and cream. For local flavor, try honey vanilla, sweetened with honey from Block Island's own Littlefield Bee Farm.
130 Weldon's Way, Block Island